Coronavirus in the Netherlands – What you need to know as an international student.
Since the outbreak of the novel coronavirus at the end of 2019, the Netherlands has been preparing diligently for the fight against the virus. While other countries are struggling to keep their citizens at home, in general, Dutch citizens have been following instructions and social distancing. This has made it possible to tone down some measures. Let's take a closer look at the situation with some examples, and provide an analysis of future and past political actions.
A short introduction to the crisis
The first few cases of the novel coronavirus began showing up in the Netherlands at the end of February. But one month before that, the Dutch government had already been preparing for the virus outbreak.

On the 24th of January, the Outbreak Management Team was formed to advise the ministry of public health. COVID-19 was then already seen as a significant threat to public health.

Since the introduction of the virus in the Netherlands on the 27th of February, more measures have been taken. People were advised to keep at least 1.5-meters of distance. Shaking hands and forming groups of more than three were not allowed too.

The government has successfully reinforced quarantine, so COVID-19 cases are dropping. Life is slowly beginning to be normal again, but to make that happen, people must follow the rules like they have been doing for the past months.
Measures taken
Let's take a closer look at the actions taken to lessen the spread of the virus. We will be giving a few examples of situations where students will need to pay attention, and provide some advice on what to do.
Public transport
Since the 11th of March, taking public transport has been ill-advised due to the higher risk of infections and the threat of infecting passengers with essential jobs (e.g. police, food service employee, medical staff).

Only citizens who have essential jobs were allowed to take public transport, but after the 1st of July, everyone can take public transport. Public transport includes trains, buses, metros, trams and ferries.

If you take public transport, keep this in mind:

Keep a 1.5-meter distance at all times, at the station and in the transport vehicle.
Step into the transport vehicle at the back to avoid the driver.
For people over age 13, wear a face mask for the entire duration of your trip in the transport vehicle or risk a fine.
Wash your hands before and after taking public transport.
Eating or drinking during your travel is discouraged as you will need to remove your face mask.
Avoid public transport during peak hours (06:30 – 09:00 and 16:00 – 18:30).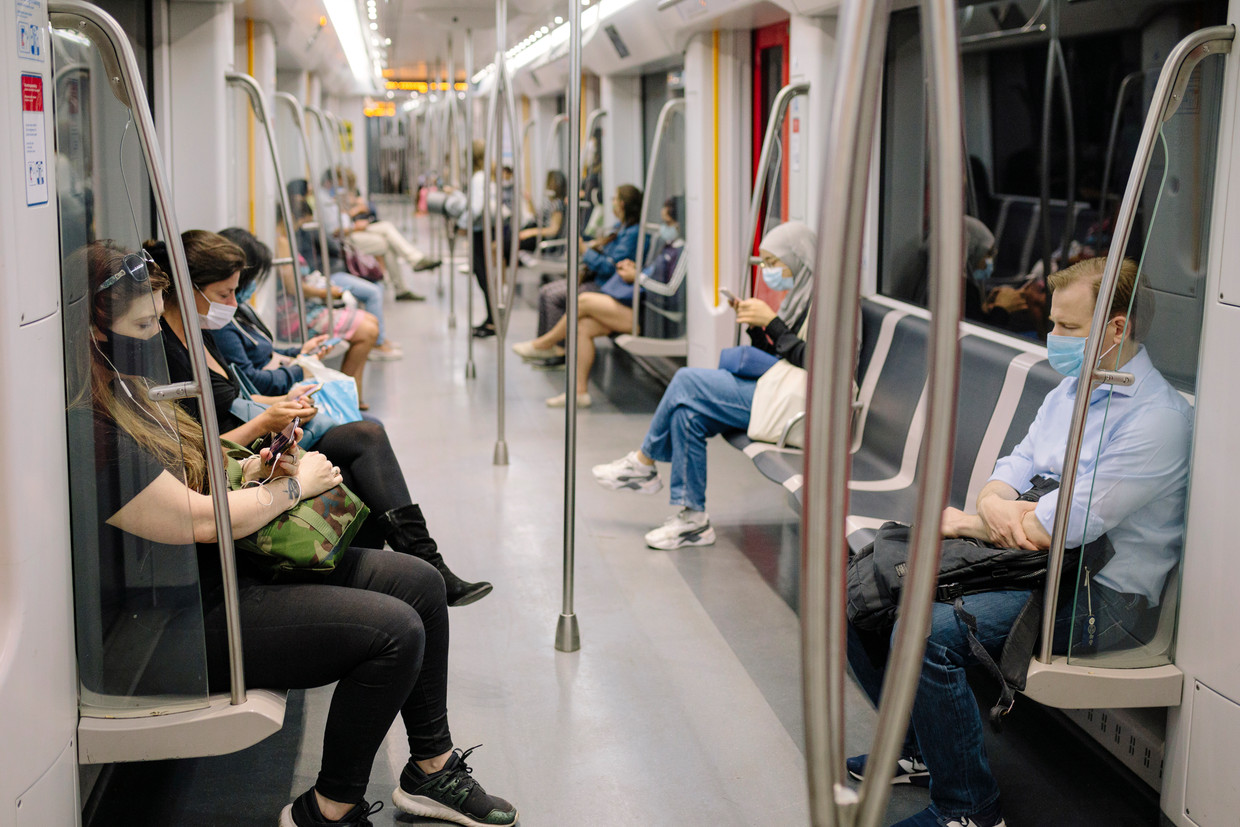 Restaurants
From the 15th of March till the 1st of June, restaurants were closed. Now that they are open again, it is time to eat out again, right? Not necessarily, as rules are still pretty strict.

The government distinguishes between different kinds of restaurants, and they all have different rules accompanying them. Restaurants with less than 100 seats won't have to check the health of their customers. It also won't be necessary for customers to reserve seats.

Restaurants with more than 100 seats will need to check for the health of their customers, and reserve seats. For terraces, the same rules apply, but the limit is 250 instead of 100.

When you want to eat at a restaurant, keep this in mind:

Keep a 1.5-meter distance between yourself and others.
Reserving a spot is the best way to be sure that you will have a place, and it will help restaurant owners with planning the arrangement of seats.
If you're planning to go clubbing, you're in luck. From the 1st of September onwards, clubs and discotheques will be opened again.
Shopping
Like in many countries, hoarding was a big thing at the beginning of quarantine. While this behaviour has pretty much died down, you should still be careful when shopping.

Most retailers haven't changed their layout to accommodate larger crowds. Checkout areas are, however, separated to minimise contact with the cashiers. If you don't like the risk, supermarkets like the Jumbo, Albert Heijn, Coop, and Plus give the option to order groceries online.

For products such as clothes, gadgets, and health products, there are multiple online retailers where you can find what you want.

If you're planning to go out shopping, please keep this in mind:

Keep a 1.5-meter distance from other shoppers.
Wear a face mask when it is not possible to keep 1.5 meters distance. Always have a face mask with you, shopkeepers can ask you to wear one regardless of the situation.
Only if you need something you should go out to shop. While this rule is not enforced, shopping for fun will promote the spread of the virus.
Go to the shops alone. Don't shop with friends because this will make it more difficult for shopkeepers to ensure the safety of other customers.
Try to keep your shopping quick to minimize the risk of exposure to other people. Half an hour or less should be more than enough for necessary shopping.
Don't touch a product if you're not sure if you need it. You can always ask an employee.
Don't be a Karen and debate with employees about rules and regulations. Keep in mind that everyone is in the same boat, and employees are just doing their job.
At home
As a student, you're probably not living alone. What are the rules between you and your fellow housemates? In general, your housemates are considered "family". You all live under the same roof, which makes it pretty hard to avoid one another. We can only advise keeping a 1.5-meter distance whenever possible.
Do you have corona?
Are you unsure if you have corona? If you have any of these symptoms, it is best to call 0800-1202 for a free test. You can call between 08:00 and 20:00 every day to make an appointment at your closest test centres set up by the Ministry of Health, and hopefully the next day you'll be tested.

The results will be reported via phone call within 48 hours after your appointment regardless of the outcome. If you're tested positive, expect a quarantine of 14 days and a source and contact examination. They will tell you more about that.
Social perception of the Coronavirus in the Netherlands
Let's talk about the general opinion of the Dutch and see what people think of the virus and the government right now.
Worries
Since the outbreak of the novel coronavirus in the Netherlands, perception of the damage it can do to your health has not changed. The risks were communicated fairly clearly. As such, the public has been worrying about the virus a healthy amount.

And while the levels of concern have been dropping steadily over the past months, we can say for sure that the general public knows enough information to protect themselves from COVID-19.

Interestingly, more citizens are concerned with the health of family members than their own, which for an individualistic country such as the Netherlands is a pleasant surprise that goes to show that national problems are capable of bringing people closer together, figuratively speaking.
Trust
While there will always be some criticism regarding the efficiency of the government in handling the pandemic, we can safely say that the Dutch government has helped its citizens to stay healthy.

This is reflected in the amount of trust citizens have shown towards the information that the RIVM (National Institute for Public Health) and the government have provided since the outbreak.
Responsibility
According to an RIVM study, around 84% of the Dutch population are following instructions fully, while the rest are following most rules. However, this figure has been steadily declining since the beginning of quarantine and will likely become lower as quarantine continues.

Nonetheless, this study shows that the majority do know that this is no time to tone down measures against COVID-19 yet.
More info about the crisis.
Want more information about the COVID-19 health crisis in the Netherlands?

The official website of the government provides plenty of important information regarding COVID-19. It is not in English, however, but you can always translate it online or ask a Dutch friend to translate it.

You may also be interested in checking out the current information about COVID-19, such as updates on the number of cases in the Netherlands, which could be found on the RIVM website. Otherwise, the World Organization of Health will help you further.

If you're worried about how your education here will proceed, check out our article about the impact of COVID-19 on higher education in the Netherlands.

Did you find this article helpful?
Let us know if you liked the post. That's the only way we can improve.